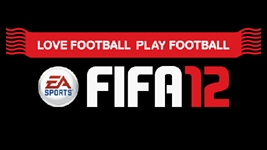 Hello and welcome to FIFA 12 Review exclusive in FIFAMAX. So if you want to buy FIFA 12 but you still hestite to buy it or even play it ? Well you've to check this review out to make you sure about it. Lets get ready to rambo !! ( Download link is at the bottom of this post )
What is New Features in FIFA 12 ?
" FIFA 12 Will be revolution "
-IGN
"Devastating dribble, more personality "
-Gamesradar
Impact Engine is a physics effect which makes the atmosphere more real in FIFA. Feel the sensation of playing FIFA 12 like watching tv with additional the tactical defensive system, is a system where the AI ​​can be more intelligent and could read the situation and the true injury, make FIFA 12 worth for entry in the list
"must haves" you, for those wishing to get info further, or do not understand, could see video impact of existing engines below
Manager

Mode

renamed

CAREER

MODE

,

because

FIFA

12

PC

=

CONSOLE

.

Career

mode

itself there are

three features

,

be

a

pro

,

manager

,

or

be

a

pro

/

manager that

the

feature

be

a

pro

/

manager

is a

combination of

manager

mode

and

be

a

pro

.

Career

mode

was

more exciting

than ever

,

with the

news

about the

team

and

manager

interviews

with the media

and player

morals

,

yes

,

now

the player

is more

real

because of

engine

impact

as well

because

they

now

can "

vent"

on the

"

boss",

for example, if

star players not

played by

the manager, he

could

do protest

and

if he ignored by the manager, he can threaten to leave the club

,

they

can also be

happy

if

our manager skills

are right and

things that are

common

found

in the real world

,

make

your

managed

experience

more exciting

than ever,

if you want to

know

more

can

see

the

appearence what it wil be in career mode
EA claims to have "revolutionized" the online side of FIFA 12. Among the changes is a new mode called "Head to Head Seasons", a variation on regular ranked matches where league points are awarded for winning or drawing matches. The aim is to progress up through ten divisions, with each "season" consisting of ten games. All players will start in the tenth and lowest division, with promotion and relegation based on a target number of points won in each season.There will also be related "cup" tournaments every few weeks. Multiplayer matchmaking has been expanded with the addition of the "flow" mode. This involves choosing various options such as team and line-up before being matched with an opponent. This change is intended to counter the problem of being paired with opponents who choose one of a small number of five-star teams, a situation that often results in repetitive matches between the same few clubs. By selecting a team beforehand, an opponent with similar team preferences to your own will automatically be chosen.There is also the option for players who use the "manual" control method, with reduced AI assistance on shots and passes, to choose to be paired against other "manual" users only. The percentage of games an opponent has finished can be specified too, making it easier to avoid "rage quitters".
What's the new Item in FIFA 12 ?

Etihad Stadium



Juventus Arena
And the new team in FIFA 12 is Chile, Colombia, Cote d' ivore, Egypt, and Peru for International, for Rest of world : Galatasary SK, and Racing Club. By the way we seem to have lost the Czech and Turkish leagues possibly due to the recent match fixing scandal
FIFA 12 Demo
If you want to tested it your self first, just check the FIFA 12 Demo post here
http://fifamax.blogspot.com/2011/09/fifa-12-demo-download.html
FIFA 12 PC System Requirements:
Processor: Intel Core 2 Duo E6750 2.66GHz or AMD Athlon II X2 245e
OS: Windows XP, Vista, Win7
CPU: 2.4 GHZ single core
Sound Card: DirectX 9, 10, 11 compatible
Graphics: NVidia GeForce 6800 or ATI Radeon X1600 at least, GeForce GTS 240 and Radeon HD 3870 recommended
Hardware: Mouse and Keyboard
Network: Internet connection for online mode
Screenshot
Rating
Description
out of 10
Click here for ratings guide
9.5
Presentation
Unrivalled authenticity and broadcast-quality presentation means FIFA remains peerless in terms of its look.
9.0
Graphics
Stadiums look magnificent and the appearance of some players is uncanny, but crowds don't stand up to close scrutiny.
9.0
Sound
Commentary is varied and games have an authentic buzz about them.
9.5
Gameplay
Bold innovation pays off, with a suite of new features that enhance not only your enjoyment of the game but take it one step closer to the real thing.
10
Lasting Appeal
With finely-tuned gameplay and a plethora of different modes and online features, you'll be playing FIFA 12 all season long.
Download Link